We are delighted to have the London Irish Centre (LIC) as our chosen charity partner for this year's lunch event. The LIC has served the Irish community in London since it was first established in 1954 and continues to offer a range of services to people within the Irish community, some of whom have attended the Centre for many years. Their heritage is critically important, but the centre is also focused on present and future needs. Aligned to their core values, the London Irish Centre is sensitive and responsive to the needs of all people, and want to extend their services to other communities as part of an inclusive, multicultural approach with the aim of building resilient and cohesive neighbourhoods.
The London Irish Centre is currently fundraising for the funds to redevelop the centre building. They want to reimagine, redevelop and reposition the LIC as a world-class community and cultural centre. The team is committed to ensuring that any redevelopment will continue to meet the needs of those whom it serves, now and in the coming year; continuing as a destination to foster friendship and support networks, and a place to celebrate Irish heritage, culture and community. Funds raised for the London Irish Centre at the UK & Ireland Business Lunch will go towards the redevelopment fund.
The Business Post is Ireland's leading business, economic and political newspaper celebrating over 30 years of independent journalism. Renowned as a must-read for key decision makers, the mission of the newspaper is to provide readers with information that is of value to them in their personal and professional lives, while encouraging enterprise and wealth creation in Ireland. Journalists who are experts in the areas of business, finance, politics, law, IT, property and recruitment provide in-depth coverage of the stories that matter to our readers. The Business Post's award-winning news reporting and analysis is updated daily at www.businesspost.ie
Partner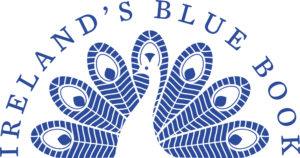 Ireland's Blue Book is a romantic collection of Irish Country House Hotels, Manor Houses, Castles and Restaurants. Located throughout the island of Ireland, these charming and stylish hideaways are the perfect choice for your holiday in Ireland. Ireland's Blue Book Hotels are also ideal for midweek or weekend breaks and for those seeking a romantic getaway or relaxing escape.
For Partnership Opportunities Contact
Francis McGinley
 Commercial Sales Manager
+353 (0) 86 836 9002